Our travels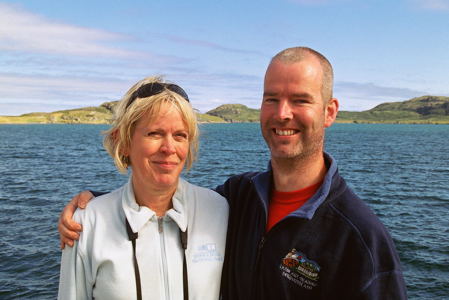 Hilda and Edwin
Since 2000 we – Hilda van der Lee and Edwin Neeleman – visited Newfoundland no fewer than nine times. What is it, that makes this fascinating island off the east coast of Canada to our mostly beloved holiday destination? It's not just because of the beautiful landscapes, the impressive natural scenery, the thrilling coastline, or the picturesque communities.

Neither the clean and fresh air, the breathtaking silence, or the restful atmosphere has been the main reason for us to return to Newfoundland almost every year.

No, it is the kindness and hospitality of the people that attracts us to Newfoundland time after time. The people there are so gently, nice, hospitable and helpful; it's hard to find words to describe this. Through the years we met quite a lot of people and some of them became – and still are – our truly friends.
I - June 2000
My interest for Newfoundland was awakened by the novel "The Shipping News" by Annie Proulx. The descriptions of the rugged landscape and the unpredictable climate and weather impressed me especially.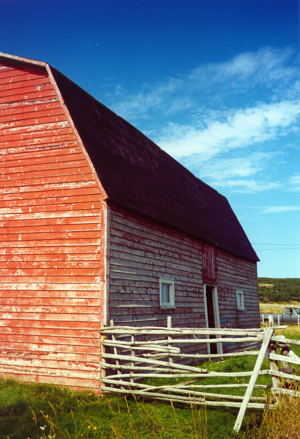 Avalon Peninsula
In fact the attraction of Newfoundland was so strong, that in June 2000 I decided to make a trip to Newfoundland and Nova Scotia (with SNP Natuurreizen). Though Nova Scotia is well worth visiting, it was above all Newfoundland that stole my heart.

In the week that we spent on the island before taking the ferry back to Nova Scotia, we enjoyed marvelous walks in Gros Morne National Park, paid a quick visit to Twillingate and the capital St. John's, and viewed the colonies of gannets at Cape St.Mary's. The opinion that one week on Newfoundland is much too short, was shared by Hilda, then my traveling companion, but now my wife. As neither of us had seen enough of the place, we decided to go back for another two weeks in September of the same year.
II - September 2000
After a one-week-tour on the Avalon peninsula we arrived in Twillingate, where we felt so much at home that we stayed there for the rest of our holidays. In the plane on the way home we already knew what would be our next holiday: Newfoundland.
III - July 2002
In July 2002 we visited The Rock, as Newfoundland is called, for the third time. On this occasion for three weeks, and even that seemed too brief. While enjoying many wonderful experiences on land and sea, we also found that life on Newfoundland is not easy.
The fishing industry, once the cornerstone of Newfoundland's economy, has disappeared almost completely and a great part of the population that earned their living from it, face a bleak future. The problems of the fisheries concerned us very much and we discussed it at length with the local people on the Northern Peninsula especially.
IV - February 2003
In February 2003 we visited Newfoundland for the fourth time. After our trips to Twillingate in the summer and fall we now wanted to know how it would be in winter. And as it turned out we were rewarded with the most severe winter in living memory.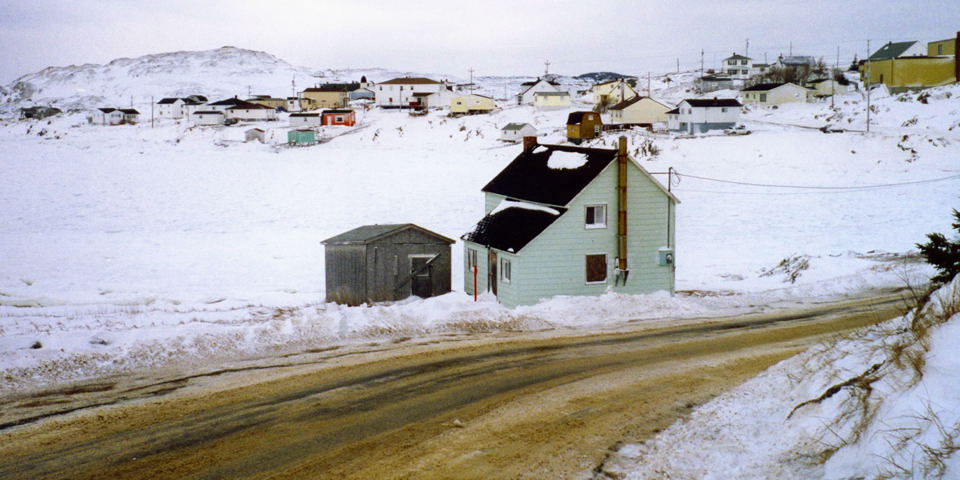 Winter in Twillingate, February 2003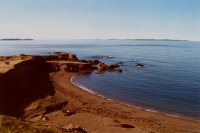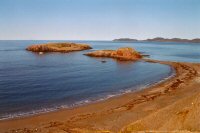 Deadman's Cove, Harbour Breton
V - May 2004
The year after we even visited Newfoundland twice. In May - the snow was hardly gone - we toured on Newfoundland by motor home for four full weeks. Besides Twillingate and the Kittiwake Coast, where we have been before, we also visited a number of small fishing communities on the Baie Verte Peninsula, en stayed a couple of lovely quiet and sunny days at the Red Indian Lake. Then we went down to Harbour Breton at the south coast, where we visited the isolated communities Gaultois en McCallum.
VI - October 2004
As we did not see Newfoundland in autumnal colors before, we returned to Twillingate in October for ten days.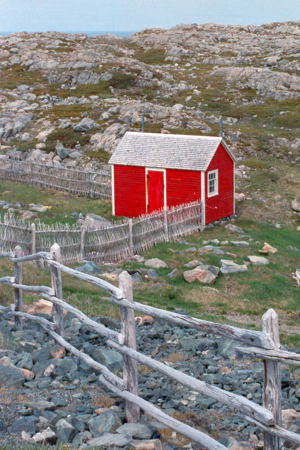 Bonavista
VII - June 2005
In June 2005 we again rented a motor home on Newfoundland, with which we drove to a number of places which we know quite well by now, but we also discovered some new spots on Newfoundland. Old and familiar were: Cape St. Mary's on the Avalon Peninsula, the Kittiwake Coast and Twillingate. One of the newly visited parts of Newfoundland was the Bonavista Peninsula, where we stayed for a couple of warm summer days in the small community of Keels.
VIII - August / September 2006
In 2006 we crossed the Atlantic for the eighth time and in August and September we criss-crossed Newfoundland by motor home for four weeks. As we had plenty of time we decided to drive to the northerly most tip of the Northern Peninsula once again. As we did four years ago we went to Quirpon Lighthouse Inn at Quirpon Island, but this time we stayed there for two nights.
On our way back south we've some wonderful spots for an overnight stay at Flower's Cove / Nameless Cove and at New Ferroles. Before going to Twillingate we spent a couple of days at Jackson´s Arm and Moore´s Cove.
From Twillingate we went to Lumsden and from there we drove back to the southeast.
IX - August / September 2008
As we did before, we rented a motor home at Islander RV. In contrary to our former travels by motor home, we comparatively often stayed at Provincial Parks. Bellevue Beach Park was our first overnight stop. Next came Lumsden and Twillingate, where we camped 'in the wild', followed by a number of nights at a campground at the Red Indian Lake.
Two places where we have not been before, but are very much worth visiting, were Blow Me Down Provincial Park on the west coast and Sandbanks Provincial Park at Burgeo in the south.
From Burgeo we went to Island Cove RV Park in La Scie and after one night in Terra Nova National Park we concluded this year´s trip at Pippy's Park in St. John's.
X - Perhaps in 2010 ?
We don't know yet when our next trip to Newfoundland will take place, but we are thinking about next year (2010).