Literature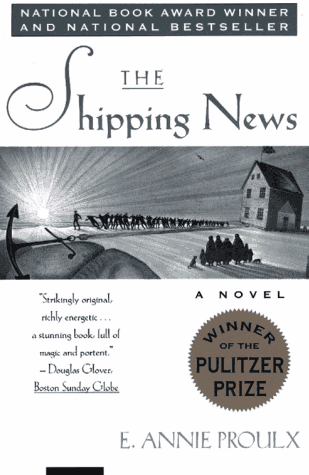 For those who like to learn more about Newfoundland, a great variety of books (novels as well as non-fiction) is available.
I N O V E L S
The book you must have read, is "The Shipping News" by E. Annie Proulx. For me, reading this book was the principal reason to visit Newfoundland, and therefore this brilliantly written novel is without any doubt on top of my list of recommended reading. Besides, the books by Wayne Johnston are highly recommendable.


E. Annie Proulx - "The Shipping News"
In this touching and atmospheric novel set among the fishermen of Newfoundland, Proulx tells the story of Quoyle. From all outward appearances, Quoyle has gone through his first 36 years on earth as a big schlump of a loser. He's not attractive, he's not brilliant or witty or talented, and he's not the kind of person who typically assumes the central position in a novel. But Proulx creates a simple and compelling tale of Quoyle's psychological and spiritual growth. Along the way, we get to look in on the maritime beauty of what is probably a disappearing way of life.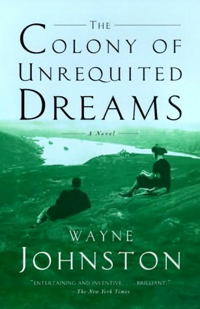 Wayne Johnston - "The Colony of Unrequited Dreams"
This Canadian bestseller is a novel about Newfoundland that centres on the story of Joe Smallwood, the true-life controversial political figure who ushered the island through confederation with Canada and became its first premier. Narrated from Smallwood's perspective, it voices a deep longing on the part of the Newfoundlander to do something significant, "commensurate with the greatness of the land itself". The New York Times said, "this prodigious, eventful, character-rich book is a noteworthy achievement: a biting, entertaining and inventive saga.... a brilliant and bravura literary performance".

The title of the book, Johnston says, evokes "the nostalgia Newfoundlanders have felt for the possibilities of the island, and that they still have for the future. Joe is always searching for something commensurate with the greatness of the land itself, but he can't find it, and it's driving him mad...Newfoundland is that kind of place. It makes you want to live up to the landscape, but on the other hand it offers you no resources to do so. There's always this constant yearning that at least for my part helped me to start writing."

Smallwood's chronicle of his development from poor schoolboy to Father of the Confederation is a story full of epic journeys and thwarted loves, travelling from the ice floes of the seal hunt to New York City, in a style reminiscent at times of John Irving, Robertson Davies and Charles Dickens. Absorbing and entertaining, The Colony of Unrequited Dreams provides us with a deep perspective on the relationship between private lives and what comes to be understood as history and shows, as E. Annie Proulx commented, "Wayne Johnston is a brilliant and accomplished writer."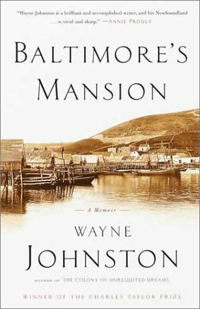 Wayne Johnston - "Baltimore's Mansion"
Baltimore's Mansion introduces us to the Johnstons of Ferryland, a Catholic colony founded by Lord Baltimore in the 1620s on the Avalon Peninsula of Newfoundland, and centres on three generations of fathers and sons. Filled with heart-stopping description and a cast of stubborn, acerbic, yet utterly irresistible family members, it is an evocation of a time and a place reminiscent of Wayne Johnston's best fiction.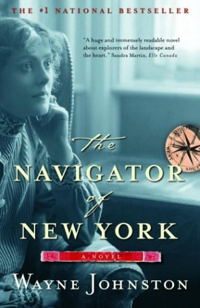 Wayne Johnston - "The Navigator of New York"
The Navigator of New York is set against the background of the tumultuous rivalry between Lieutenant Peary and Dr. Cook to get to the North Pole at the beginning of the 20th century. It is also the story of a young man's quest for his origins, from St. John's, Newfoundland, to the bustling streets of New York, and the remotest regions of the Arctic.

Devlin Stead's father, an Arctic explorer, stops returning home at the end of his voyages and announces he is moving to New York, as "New York is to explorers what Paris is to artists"; eventually he is declared missing from an expedition. His mother meets an untimely death by drowning shortly after. Young Devlin, who barely remembers either of them, lives contently in the care of his affectionate aunt and indifferent uncle, until taunts from a bullying fellow schoolboy reveal dark truths underlying the bare facts he knows about his family. A rhyme circulated around St. John's further isolates Devlin, always seen as an odd child who had inherited his parents' madness and would likely meet a similar fate.

Devlin, who has always learned about his father through newspaper reports, now finds other people's accounts of his parents are continually altering his view of his parents. Then strange secret letters start to arrive, exciting his imagination with the unanticipated notion that his life might contain the possibility of adventure. Nothing is what it once seemed. Suddenly a chance to take his own place in the world is offered, giving him courage and a newfound zest for discovery. "It was life as I would live it unless I went exploring that I dreaded."

Caught up in the mystery of who his parents really were, and anxious to leave behind the image of 'the Stead boy', at the age of twenty Devlin sails, carrying only a doctor's bag, to a New York that is bursting with frenzied energy and about to become the capital city of the globe; where every day inventors file for new patents and three thousand new strangers enter the city, a city that already looks ancient although taller buildings are constructed constantly. There he will become protégé to Dr. Cook, who is restlessly preparing for his next expedition, be introduced into the society that makes such ventures possible, and eventually accompany Cook on his epic race to reach the Pole before the arch-rival Peary. This trip will plunge Devlin into worldwide controversy -- and decide his fate.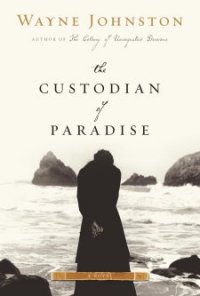 Wayne Johnston - "The Custodian of Paradise"
In his new novel, Wayne Johnston resumes a story he began in The Colony of Unrequited Dreams and gives us a riveting narrative with Sheilagh Fielding, one of the most memorable and beloved characters in all of Canadian fiction, at its centre.

It is the waning days of World War II and St. John's is a city of wounded or absent men. At the beginning of the novel, Fielding - as she is almost universally known - is headed for Loreburn, a deserted island off the south coast of Newfoundland. She brings two enormous trunks full of provisions that will make possible an extended stay. Gradually, we begin to learn what has brought her, a lame woman with a broken heart, to a wild island populated by horses, dogs and, perhaps, one other person she has never seen. He is the one who has been shadowing her since she made a mysterious pilgrimage to her mother's house in New York City more than two decades earlier.

Fielding's mother had deserted her husband and only child when Fielding was just six years old, and, unable to figure out why a woman would abandon her child, her father was left tormented by the question of Fielding's paternity. She is six-foot-three and nothing at all like him. Is she indeed his child? When, as a teenager and already a renowned wit and eccentric, Fielding falls briefly and terribly in love, she is left, ultimately, more alone than ever. Now, more than two decades later, she is in mourning and hounded by regret. She has no idea how to continue living when she arrives in Loreburn with her trunks and their peculiar contents.
II N O N - F I C T I O N
Patrick O'Flaherty - Come Near at your Peril
The #1 Visitor's Guide to the Island of Newfoundland
O'Flaherty's first edition of this book was a real hit. It was described as a honest, unique, hard-hitting and beautifully written.
In this new edition O'Flaherty, who is a master of prose, guides us through a northern paradise on an inspiring literary jaunt in the tradition of the great Samuel Johnson.


Patrick O'Flaherty - Old Newfoundland: A History to 1843
A compact narrative history of Newfoundland from the earliest inhabitants to the 19th-century reformers


Kevin Major - As Near to Heaven by Sea
A history of Newfoundland & Labrador


Gary L. Saunders - Doctor Olds of Twillingate
Portrait of an American Surgeon in Newfoundland
This is the engrossing story of a bright Johns Hopkins graduate who fell in love with Newfoundland as a student and became the medical care system in NE Newfoundland for 40 years. Crusty, caring and unconventional, his surgical skill and devotion made him a folk hero. Like Norman Bethune in China, Olds helped pioneer thoracic and orthopedic surgery in Newfoundland. If he couldn't buy a certain instrument, he designed and fabricated one in his machine shop. In 1970, to commemorate his 40th year of medical service, Newfoundland declared a province-wide Dr. Olds Day.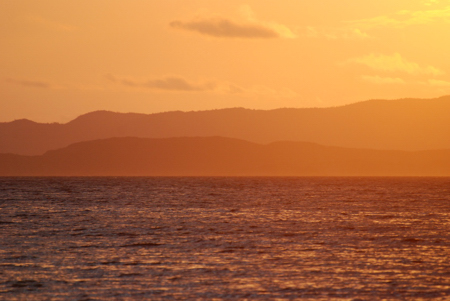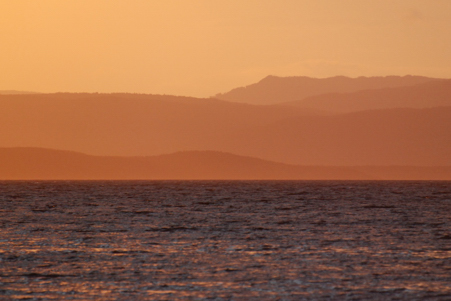 Sunrise at Blow Me Down Provincial Park, September 2008.